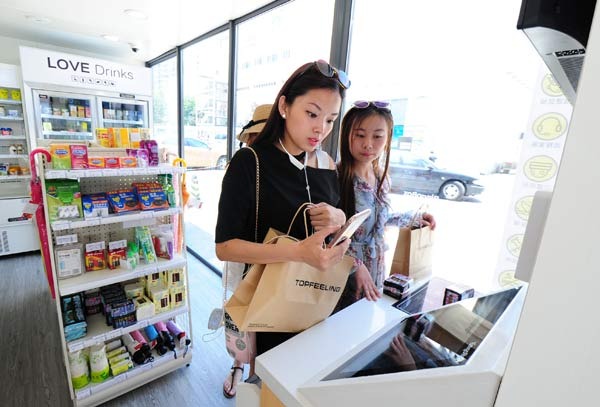 As we all experienced during the pandemic, shoppers were challenged in purchasing their basics at the grocery store. This helped the grocery stores create a footprint on the internet, aka eCommerce. Today most customers still want to shop at their favorite store.
It is clear that a new generation of shopper is emerging, the hybrid shopper. Many millennials who are happy with their clicks, like the convenience of shopping online and with a fast curbside pickup.
Our Hybrid Shopper
Our grocer has connected their physical locations with their eCommerce website. They are not only offering flexibility to the shopper for choosing a channel to buy products, but they are also, offering a seamless experience to move from one medium to another. For example, selecting fresh items on their mobile device, making the purchase from their desktop, and picking up curbside on their way home.
Building loyalty has been the mantra for many years. Brands, Retails, Grocers who build long term loyalty experience significant growth, and better margins. Understanding and delivering a seamless Omnichannel experience for the changing world is the next step.
53% spend more per month when on Omnichannel.
Benefits of an Omnichannel
As tech companies move into stalwart industries, they are pulling segments of the existing customers away to new avenues (channels) of purchasing. Grocers are now competing with the Amazons and Targets of the world even though they are not in their backyard. The benefit of becoming Omnichannel allows the grocer to compete on the same footing.
Offer their customer the best of all channels of retail experience, with an added benefit; of maintaining the personal hometown relationships.
Omnichannel introduces opportunities:
Advantage over its competitors: Primarily digital vendors like Amazon are challenged to compete with brick-and-mortar grocers because the B&M grocer already existing physical stores and good relationships. By adding digital touchpoints to their location, grocers can match the Amazons of the world and offer more personalized and tailored experiences.
Larger basket size: With more paths to fill a basket, the omnichannel shoppers spends more during the month $594 compared to a physical only store $388.
Increase customer satisfaction: The increased touchpoints create better communication and interaction increasing the customer's loyalty to their brand.
Gether Your Data
Personalize
First Party Data
Mobile APP
Loyality program
Own as Much Data as Possible
The characteristics of shopping are evolving. Just as in mobile devices the number of sensors went from 10s to 100s, the same is becoming available to the grocers. Their Omnichannel pathways including their stores will be rich with data points about the shopper. This opens the door to immense opportunities in the future. It is important for the grocer to start making plans today. The benefits of data include:
Personalization. Shoppers want to know they are being understood. Personalization gives the grocer / retailer the to better understand their customer and personalize next best action and next best offer. This method over time leads to bigger purchases and improved loyalty.
First-party data. Third-party data is stale in this world. Own your data and use to improve advertising, customer experience, and brand loyalty.
Retail Solutions for Connectivity
Oracle Retail
Blue Yonder
NEC POS
Lexmark